View Cat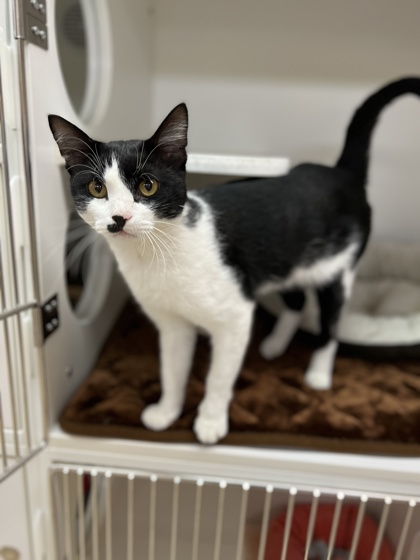 Breed: Domestic Shorthair/Mix
Age: 4 years
Gender: Male
Size: Medium
Color: Black/White
Spayed/Neutered: ✅
Declawed: No
Location: Lobby
This is one very sweet cat. That being said he is FIV positive. So what that means is he may have a shorter life span or maybe not! It would be in his best interest that he belong to someone that gives their animals regular veterinary care and a good quality of nutrition. Here are a few things I found on the web about FIV cats that are true!
Is FIV fatal? What are the symptoms?
The most common cause of death in cats with FIV is old age. FIV-positive housecats rarely show any symptoms of the disease and usually live long, happy lives. When complication do arise, it's generally in cats who have been fending for themselves outdoors over a long period of time and are not in good overall health.
How do I care for an FIV-positive kitty?
There is usually no medication or special treatment required for FIV. You can take the following steps to help your kitty stay healthy and happy:

Keep FIV+ kitties indoors so that they can't get into fights with other neighborhood kitties.
Feed your FIV+ kitty a healthy diet of high quality food
Keep your FIV+ kitty up to date on vaccinations and veterinary check-ups
He sure deserves a forever home where he will be loved! Will that be with you? Please get your application in so that you can meet him. He is sure to win your heart~!

Adoption Fee: Name Your Own Adoption Fee!

WANT TO TAKE ME HOME TODAY?
To Adopt:
1. Fill out and submit our online Adoption Application.
2. Please only submit ONE Adoption Application. (Our Application is for general pre-approval, not for a specific adoptable animal).
3. Once received, Humane Fort Wayne will review your application. Applications are reviewed in the order they are received.
4. We will contact you to let you know your Adoption Status. Applications may take up to 1-2 days to process. Please give us a call at the shelter at 260-744-0454 if you have not heard back from us within 48 hours.
5. If you haven't found your perfect match at the shelter, that's okay too - pre-approved applications are valid for 6 months!

Come prepared! Please bring proof of a current rabies vaccine for all pets living in the home. Upon adoption, please bring or be prepared to purchase a leash and collar ($8 each from Humane Fort Wayne) to take your new dog or puppy home, or a suitable carrier to take your new cat or kitten home.

Unfortunately, animals cannot be held for you.

A Special Note from Humane Fort Wayne:
Remember, pets are a lifelong commitment. We at Humane Fort Wayne ask that you take adding a furry family member to your home seriously, and do your research on the different breeds before adopting. We also ask that you are able to keep up on yearly vaccinations, monthly preventatives, a good diet, daily exercise, training, and most of all, LOVE. If you ever have an issue with a pet that you adopted, please contact us right away; we may be able to help, or we can put you in touch with someone who can. All set? Come in and adopt today!