View Cat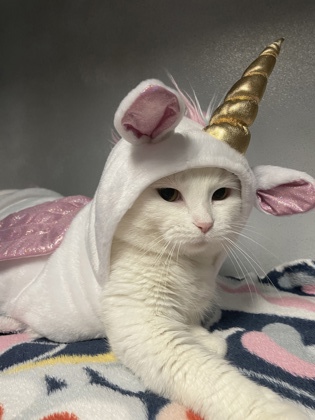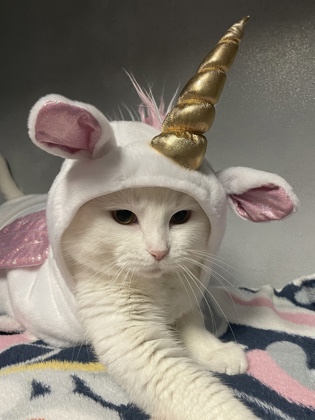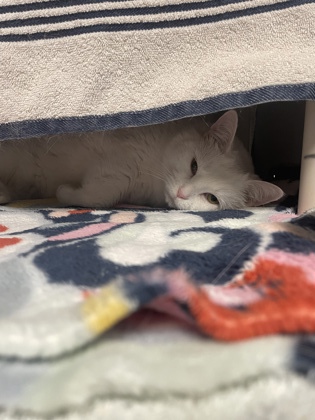 Breed: Domestic Shorthair/Mix
Age: 8 years 11 months
Gender: Female
Size: Medium
Color: White
Spayed/Neutered: ✅
Declawed: No
Location: Feline Intake
Hello my name is Lucy! I am a very sweet life experienced 9 year old snuggler. I love being petted and snuggled and
I will even talk to you! I was in a home with indoor/outdoor siblings and was surrendered
due to no fault of my own. My friends at Humane Fort Wayne performed a blood test on me
and found out I have a retrovirus called Feline Leukemia Virus or FeLV, commonly found in
indoor/outdoor feline friends. This virus is spread through close social contact such as
through saliva (mainly), nasal secretions, blood, urine, feces, and milk. For this reason I
MUST be the only cat, to prevent any other cats from getting the virus.
Another test was sent out to determine what stage of FeLV I might be in called a PCR test,
this test determined that I may have a regressive form of the disease, meaning as of right
now I am controlling my infection well. This test however, is only a snapshot in time, the
time the test was submitted. There is always the chance that my infection may turn into a
more serious progressive form due to me being immune compromised or weakened
immune system. Things such as my age, any stressors, or any illnesses could push me into a
more progressive form of the disease. My friends at HFW have already performed
bloodwork on me that I will be going home with.
Because of my virus, it is super important that I see a vet regularly, stay up-to-date on all
vaccinations, and that my overall health is monitored via routine bloodwork and vet visits.
This all sounds like a lot, but I am worth it. I may be older but I have a lot of love left to
give!!
Before I go home you will be able to speak with our medical staff to ask any further
questions and make sure we are a great fit for one another. Thank you so much.



WANT TO TAKE ME HOME TODAY?
To Adopt:
1. Fill out and submit our online Adoption Application.
2. Please only submit ONE Adoption Application. (Our Application is for general pre-approval, not for a specific adoptable animal).
3. Once received, Humane Fort Wayne will review your application. Applications are reviewed in the order they are received.
4. We will contact you to let you know your Adoption Status. Applications may take up to 1-2 days to process. Please give us a call at the Shelter at 260-744-0454 if you have not heard back from us within 48 hours. Once you are approved, you can visit the Shelter during our regular business hours to see the adoptables!
5. If you haven't found your perfect match at the shelter, that's okay too - pre-approved applications are valid for 6 months!

Come prepared! Please bring proof of a current rabies vaccine for all pets living in the home. In some cases, we may require you to bring all family members and/or dogs in the home to meet with the  adoptables. Upon adoption, please bring or be prepared to purchase a leash and collar ($10 each from Humane Fort Wayne) to take your new dog or puppy home, or a suitable carrier to take your new cat or kitten home.

Unfortunately, animals cannot be held for you.

A Special Note from Humane Fort Wayne:
Remember, pets are a lifelong commitment. We at Humane Fort Wayne ask that you take adding a furry family member to your home seriously, and do your research on the different breeds before adopting. We also ask that you are able to keep up on yearly vaccinations, monthly preventatives, a good diet, daily exercise, training, and most of all, LOVE. If you ever have an issue with a pet that you adopted, please contact us right away; we may be able to help, or we can put you in touch with someone who can. All set? Come in and adopt today!